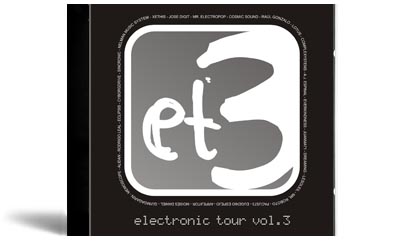 Disco recopilatorio de música electrónica que incluye 21 composiciones inéditas de otros tantos compositores.
Tracklist:
01-Quimgagarín – Front Fred
02-Memoscope – Cool Age
03-Alidan – Helicoide
04-Rodrigo Leal – Constante Hobble
05-Eclipsis – Myvatn
06-Cyborgdrive – Best Time Of My Life
07-Sincronic – London's Groove, The City In The Night
08-Nelman Music System – Galaxies (Radio Edit)
09-Xethis – Escape From Black Hole
10-JoseDigit – The Voice Song
11-Mr. Electropop – Hacia El Fin
12-Cosmic Sound – Breakheart
13-Raúl Gonzalo – Una Luz En La Oscuridad
14-Lotus – Opus21
15-Complexystems – Better Tomorrow
16-A.J. Espinal – Borealis 9-10
17-Everkindness – Be Bat At Two
18-Juanma71 – Empacho Electrónico En 3 Movimientos
19-Dreaming – Get Me Out Of Darkness
20-Lesoleil – Blue Song
21-Mr. Roboto – Exodus, The Faithless Man
22-Pacus73 – Volver A Ser
23-Eugenio Espejo – Electronic Nigthmare Before Christmass
24-Arpejitor – Acuática
25-Moisés Daniel – When The Night Falls
«Una Luz en la Oscuridad» es un tema compuesto e interpretado por Raúl Gonzalo.
Todos los derechos reservados. Prohibida la venta, alquiler, copia y/o radiodifusión sin el permiso expreso del autor.
© «Una Luz en la Oscuridad»: Raúl Gonzalo Prieto 2008.
℗ fjarre.com 2008