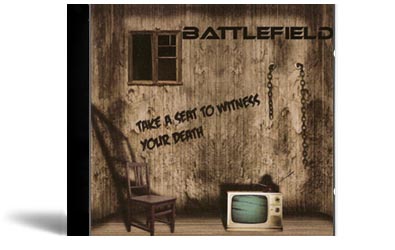 Disco de estudio del grupo musical «Battlefield».
Tracklist:
01-Entering The Battlefield (1)
02-Exclusive World
03-We Don't Need
04-Battlefield
05-You're Free
06-Take A Seat To Witness Your Death
07-Forget My Dark Side
08-Buying Souls
09-One By One
10-Ready To Go
11-Out Of This World
Todos los temas compuestos e interpretados por Battlefield.
(1) Composición y arreglos instrumentales de Raúl Gonzalo.
Todos los derechos reservados. Prohibida la venta, alquiler, copia y/o radiodifusión sin el permiso expreso del autor.
© Battlefield 2010.
℗ Battlefield Music 2010.