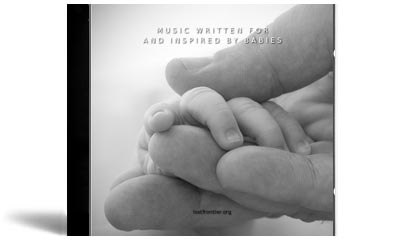 Disco recopilatorio de música inspirada en los recién nacidos que incluye 17 composiciones inéditas de otros tantos compositores.
Tracklist:
01-José Luis Serrano: Vida, © 2011 José Luis Serrano
02-Raúl Gonzalo: Siempre Seré Tú, © 2010 Raúl Gonzalo
03-Francisco Sánchez: Hija de la Magia, © 2009 Francisco Sánchez
04-Carles Reig: El Paseo del Ángel, © 2011 Carles Reig
05-Chad Lawson: Goodnight, Daniel, © 2011 Chad Lawson
06-G.R.O.K.: Il Sogni Di l'Angelo, © 010 José Jibaja
07-Aleix Riera: Eyes of Children, © 2002 Aleix Riera
08-Pepe Acevedo: Duerme, mi Amor, © 2010 Pepe Acevedo
09-Blond Blood: Nana, © 2009 Blond Blood
10-Isidro Martínez: Para Lucía, © 2008 Isidro Martínez
11-Javier Galea: Born (Manuel), © 2008 Javier Galea
12-Rafael Zacher: Conociéndome, © 2010 Rafael Zacher
13-Javier Leal: Far Beyond the Stars (Adagio), © 2011 Javier Leal & Franco Palmetti
14-Olga B.G.: Nana 2, © 2008 Olga B.G.
15-Javier Sabadell: Farewell, © 2008 Javier Sabadell
16-Shardik's Walkman: Lullaby for a Friend Beyond the Moon, © 2009 Shardik's Walkman
17-Roger Subirana: Ni en Sueños Dormiré, © 2009 Roger Subirana


«Siempre Seré Tú» es un tema compuesto e interpretado por Raúl Gonzalo.
Todos los derechos reservados. Prohibida la venta, alquiler, copia y/o radiodifusión sin el permiso expreso del autor.
© «Siempre Seré Tú» : Raúl Gonzalo Prieto 2011.
℗ lostfrontier.org 2011.